One Digital is an exciting and unique National Lottery Community Fund supported collaborative digital inclusion programme developed by Age UK, Citizens Online, Clarion Futures, Digital Unite and SCVO. At the heart of One Digital is the recruitment and training of Digital Champions to deliver essential digital skills support to individuals who are digitally excluded.
Following a hugely successful 'test and learn' pilot digital inclusion project in 2015-16 which helped over 11,000 people to develop their Essential Digital Skills, the One Digital consortium was awarded additional funding to expand the programme with the goal of recruiting and training a further 3000 Digital Champions between 2017 and 2019.
The digital skills climate
The UK is suffering from a digital skills crisis. 
The 2018 Lloyds Bank UK Consumer Digital Index shows that 11.3 million UK adults do not have all 5 Essential Digital Skills
In addition 4.3 million adults have no Essential Digital Skills at all
This digital skills gap represents a growing problem for society as internet use is increasingly entrenched and public services become 'digital by default'. Those who do not have the skills can find themselves at a disadvantage when engaging with public services. They may also miss out on the many benefits that digital can bring to their lives. 
What is a Digital Champion?
A Digital Champion is someone who is trained and supported to inspire others to get online and can spend time showing them how. This includes things like:
Teaching someone to use internet search engines;
Helping someone set up an email account;
Setting someone up on Skype;
Showing someone how to research activities in their local area.
Digital Champions can be found in a variety of settings and organisations, helping a range of people from family and friends to people they work with. Digital Champions often work as part of digital inclusion projects designed to help those who are digitally excluded gain confidence in using digital technology and the internet.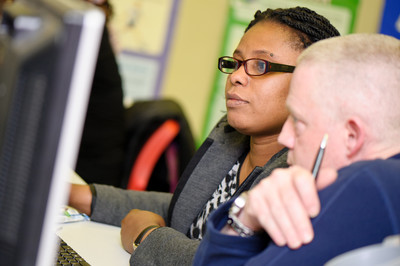 A Digital Champion doesn't have to be an IT whizz; they just need to have a bit of spare time, an enjoyment of being online themselves, some confidence with basic computer use and most of all, a willingness to help others.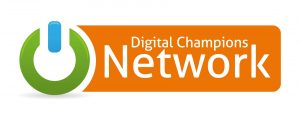 The Digital Champions Network
Digital Unite's Digital Champions Network (DCN) is an interactive destination that turns staff and volunteers into great Digital Champions. With its extensive training, tools and support the Network is empowering thousands of people to pass on their online skills to help others.
Each One Digital partner is providing organisations with membership of the DCN as part of their project offer.
Phase 1 of the One Digital programme was a 'test and learn' pilot project designed to assess the suitability of using skilled and trained Digital Champions on a large scale to help people get online and develop their digital skills. The project was a huge success, recruiting 1179 Digital Champions and supporting over 11,000 individuals to improve their essential digital skills.
One Digital programme team