Digital Champions have a crucial role in providing support to help people get online and develop Essential Digital Skills.
Digital Champion models
These are the types of Digital Champion that have been working with One Digital in different communities, localities and organisations across the UK.  These models are flexible and can be a useful guide when developing models of Digital Champion support for your own organisation.
The different Digital Champion models can give us ideas of what might work in different situations. For example:
In a local youth centre or housing scheme for older people, a volunteer digital champion project encouraging peer to peer learning can be very successful;
For a more in depth project which may have external funding, professional Digital Champions can provide a dedicated resource to help recruit volunteer Champions and work with local partners;
For an organisation providing an online service, supporting staff to become embedded Digital Champions to help customers to get online and access the service directly can work well.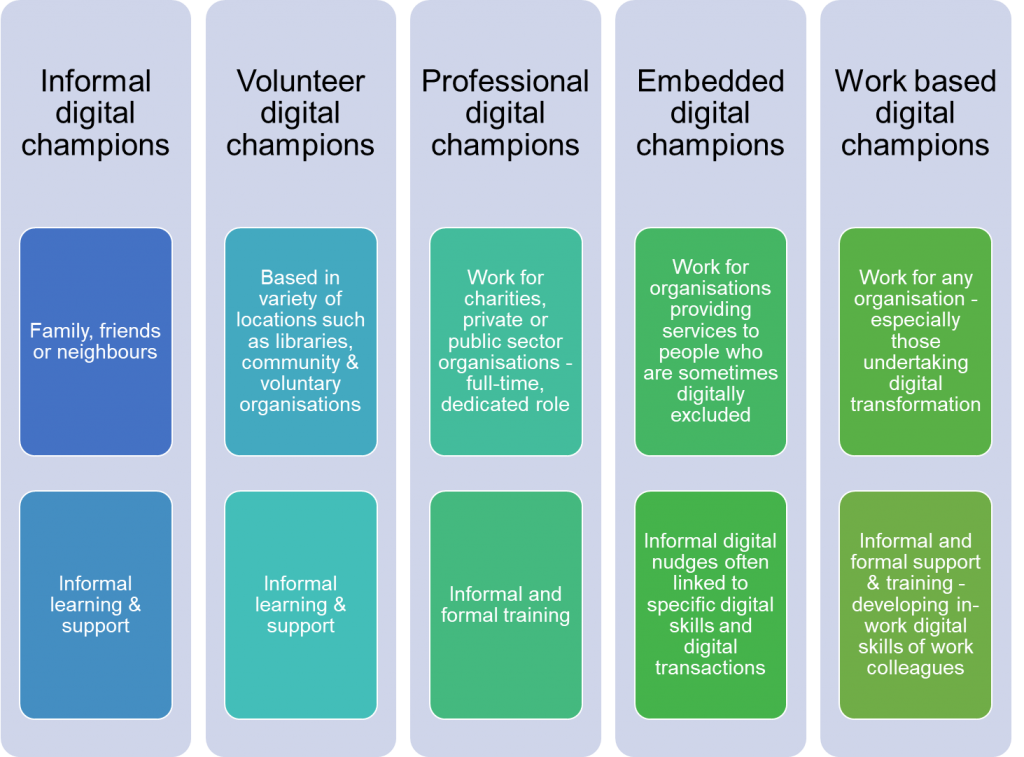 Characteristics and attributes of Digital Champions
The skills, knowledge, qualities and approach that each individual brings as a Digital Champion will be unique and varied. These skills will in part be influenced by the community or organisation that they are working within, and also by the circumstances and situation of the learner. Some learners have no skills and others have low level skills and need to develop specific ones such as job searching online.
In general Digital Champions are:
Motivated to help others
Willing and understand the need to build rapport with learners
Keen to promote the benefits of having digital skills.
Digital enthusiasts and motivators – keen to learn and keep up to date themselves
Good communicators and active listeners
Trusted and patient
Skills and knowledge of Digital Champions
The skills and knowledge needed to be a Champion alters depending on the context and location in which the Digital Champion is working – the following is generally accepted:
Basic and/or specialist digital skills
A knowledge and understanding of the barriers to people being online and how to overcome them
How to help people with access questions
An understanding of relevant policies and procedures
How to help people with access questions
Have completed online or face to face training courses in helping people to develop their digital skills
A commitment to sharing and recording information about the progress of learners
A more in-depth look at some digital champion models